I GOT MY SPINNING WHEEL!!!!!
So for Christmas my parents gave me some cash for a spinning wheel from
Babe's Fiber Garden
. Their motto is "Function Before Form for Affordability" and I like it. Here it is!
Ahh...the double treadle production wheel...*sigh*
I realize now, hindsight being 20/20, that I could have taken pictures of the whole process of opening the box and assembly, but I was just too anxious to get going I forgot about pics! So I took a few after the fun was done for the night...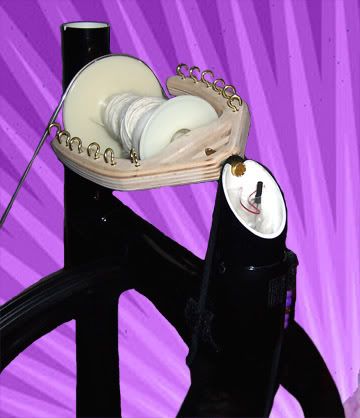 A close up of the flyer...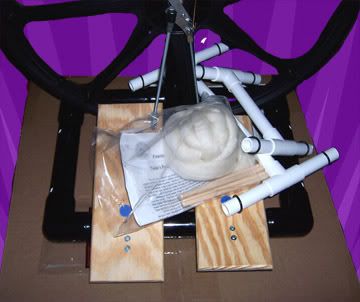 And the bottom of the wheel...
Here is what else I got:
Comes with 6 bobbins, four built in Lazy Kates (you can see the holes drilled on the sides of the bottom), 1/4 lb. of Brown Sheep wool roving, oil bottle, and two niddy noddys, a sample which is a one yard skein, and a standard which makes a 1 2/3 yard skein.
The frame is made of PVC pipe, and the wheel is originally for a wheelchair and weighs about 8 pounds. It only took me a few minutes to assemble with only 2 screws. The instruction were a bit wonky, but I tend to take things a little too literally sometimes. Although it is a bit wobbly during spinning, when I put it on the carpet that solves that. I think my treadling is just a bit too powerful :) Definitely a worthy investment for my first wheel, and much more affordable too. Now to save my pennies for a joy ashford!