whirlwind
So last month to now has been a whirlwind...so many things happening, so much work do to, and not enough time to knit or blog! I promise I'll do better this month! I am really trying to get on track :) But now that I have a new 24" iMac @ work, things will go much more smoothly! I just wish I could take this baby home with me...
so on to the blogging!
After much red tape from the PO, I finally got my SP's package out last month. There are so many damn rules and regulations surrounding the PO and their services, I think I'll just use FedEx next time and avoid the hassle.
SOooooo about the dredlock bag (Kathy I know you're curious!)
I got the pattern from
IndiKnits
, but it is no longer available due to low demand. I actually had to drive about an hour just to pick up the pattern in the first place, but I hear Amy might be making it a free pattern, so keep an eye out!
Here are some pre-felting pics...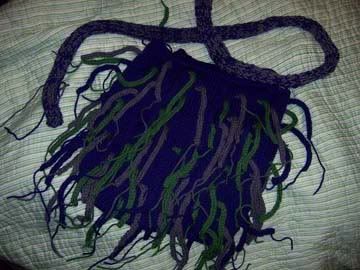 And after only one run through the wash cycle (I am pleasantly surprised) the
Wool of the Andes
from
KnitPicks
felted up beautifully!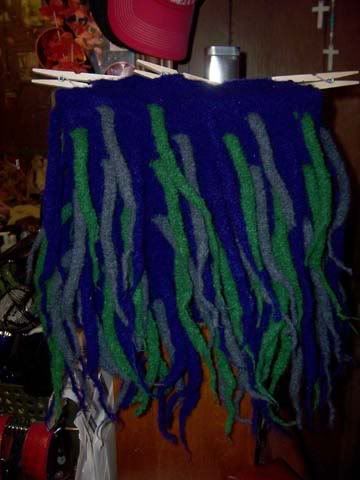 here it is blocking...
an artsy closeup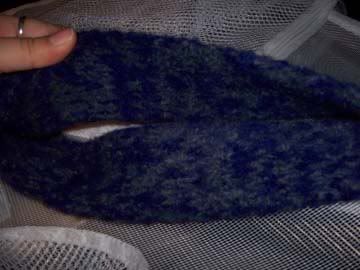 And a close-up of the strap.
I took a few liberties with the pattern as this was my 2nd dredlock bag. I added a flap to the bottom to make a rectangular base. The strap was worked with two strands of wool to be more manly, as this bag was made for a boy. I also picked up stitches at the top and made another flap to square off the top. I'll have more photos once I pick up a zipper and get everything put together.
And on the knitting front, I've been S-L-O-W. The post-thanksgiving weekend I whipped up another pair of
Sweet Mary Janes
for a friend's x-mas gift. If only every project knit up as fast as these!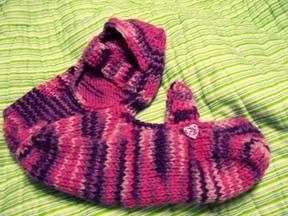 I'm going to add puff paint treads to finish these off.
And the Christmas knitting list get a little smaller. I have a pair of Fuzzy Feet to make for mom, and I haven't decided what else to make for others yet...man, I'm going to have to do more shopping thatn I wanted, but to save myself some post-work stress, it'll be worth it. Now let's just hope I get that Christmas Bonus!
until we meet again, hopefully sooner than later...
>^.^<