Progress!
OK, so I've been in a frantic kinda rush to get gifties ready for all...
First up, for momma...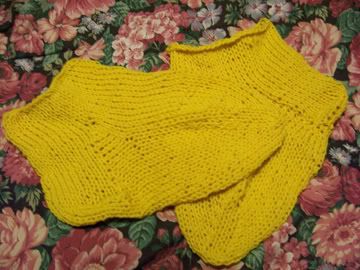 Fuzzy Feet
from
Knitty
. These felted slippers (obviously pre-feling at this stage) are a really fast knit. I completed one Sunday afternoon and finished the 2nd one over monday and tuesday. We live in an old house that's really cold, so hopefully these will keep my momma's feet toasty! I hope to felt them by the weekend and adding leather patches to the bottom for traction.
For Dad I'll be sewing some
flannel night shirts
. He loves these things so much and they're really hard to find in the stores, so I know he'll get a lot of use out of them...
For the boy's mom I'm making a small black purse from a pattern book she bought me called
Crochet Bags!: 15 Hip Projects for Carrying Your Stuff
out of black nylon. The book has some interesting ideas, and LOTS of ugly ones...I guess it wouldn't have been so bad if most of the samples weren't made in a pea soup green color...oh well...I'm swatching for that now.
And finally I'm making this for myself...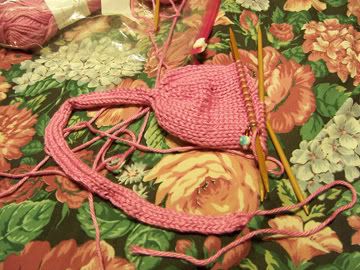 So far it's about 1/3 of an
Eye Mask
from Knit Picks. The shine worsted is fuzzier that I thought it would be but is knitting up nicely. I think I'll fill it with rice and lavender...something to soothe me after the hella stressful days I've been having.
And a note to Miss Scarlett...am I your secret pal? Not that I know of, but you never know...Yes, I have seen NIN 5 times live so far :)
Until we meet again...
>^.^<