The day draws near...
OK, so I don't know about you, but Christmas panic is settling in.
I just felted mom's fuzzy feet slippers last night, but they have to go another round in the wash as they are still too big. I still haven't decided what to do about the soles yet. I found a couple that cover the whole bottom and a bit of the sides, or I was thinking about cutting up some scrap leather I have and using that...I guess I'll have to figure that out soon!
I stayed late at work Tuesday night to use our big meeting table to cut out the material for my dad's night shirts. Well, I couldn't find my fabric scissors, so I ended up using ones that totally suck to cut material. It took me an hour just to cut out all the pieces! I also couldn't find the interfacing...After a hunt at home, I did manage to find enough interfacing to use on one nightshirt, but I have yet to cut it out. PLUS it's really hard to make a gift for someone you share a working space with. Mom says just to tell him it's for the boyfriend and maybe he won't notice...probably not :)
This is the reason I didn't get any sewing done on Tuesday...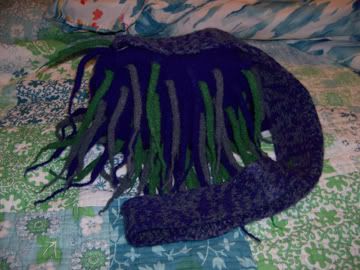 The Dredlock Bag is finally done!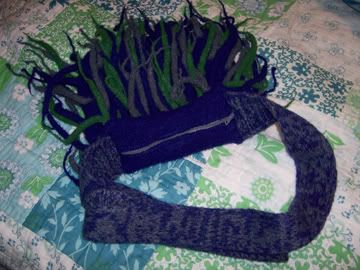 a top/side view...I actually sewed the zipper and strap with the machine :)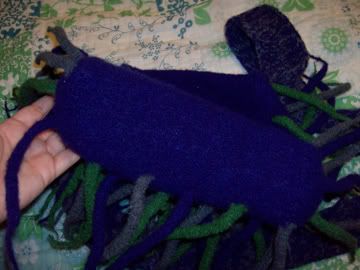 Here you can see how I squared of the bottom for a slightly more manly look...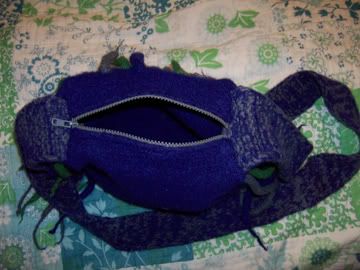 And a little peek inside!
I used a heavy duty YKK zipper because the last one I got for my first bag kept splitting. It turned out to be way longer than needed, but the sturdiness is exceptional. When I hand sewed the side seams on top I sewed the rest of the zipper down the side of the bag. All in all, I think it turned out great. Now to present it to my customer!
And I finally got around to starting (and understanding) the vintage fan purse.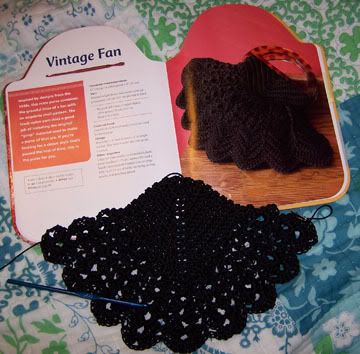 You can see it with the pattern. I don't know if I'm just used to knitting patterns, but sometime crochet patterns seem like they're in another language or something LOL.
A close up of the stitch detailing. Once I got the hang of reading the instructions with the help from my friend things went much more smoothly. While this isn't a Christmas gift, I did promise to make this purse for a September birthday (yeah, a little late!) I ordered handles from
kpixie
along with some magnetic snaps. I tried to go through the company in the book, but they didn't seem to have the same handles that were in the picture, so I just went with something similar.
OK, tonight I'm hoping to finish up some shopping and get some more progress done on the rest of the gifts! I hope everyone has a happy holiday!
>^.^<