PICTURES!!!
OK, first off, the snack swap photo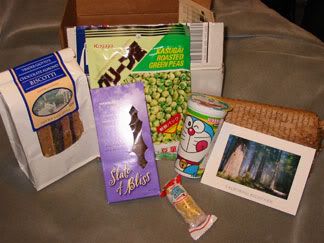 MMMM! We have spicy peas, chocolate almond biscotti, espresso chocolate bar, japanese cookies, a cute hazelnut hippo cookie from the UK and a pretty postcard :) THANKS SIMA!
On to the knitting!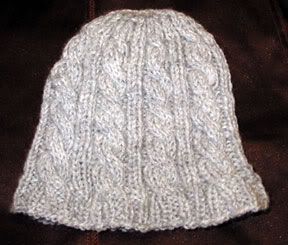 My first Cable project! This is the Basic Cable hat from Stitch 'n Bitch Nation :)
And me looking a bit maniacal in my new hat...
Drum roll please..............................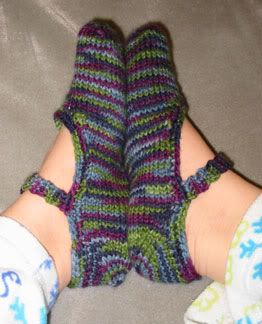 The completed Mary Janes! I realize that this photo makes one foot look bigger than the other, but I assure you they are the same. At least i used the same sizing ;D
And a side view of the MJs. This pic dosen't do the button justice tho. They're actually a really pretty blue and black swirl button. A perfect fit!
I think I may need to make the next size down even tho I have size 10-11 feet. They fit a bit loosely, but they're definitely comfy and warm :)
And that's all folks, Time for bed!
>^.^<