MEGA POST!
OK, here's what you've all been waiting for! You know, the few people who actually read this thing :) *WARNING: PHOTO INTENSIVE POST!*
so on the secret pal front...
This is a lovely needle case that my SP made for me! It coordinates with the circular needle case she made for me too :) Notice my lovely photoshop layering skills. LOL I put in the few straight needles I could find for the photo. I have more, it's just been a while since I've used them, I forgot where they all went off to!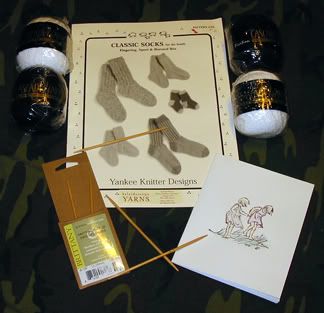 And this here is a lovely sock kit my SP put together for me :) Lovely brittany needles, some cascade fixation in black and white, a pattern leaflet with four different patterns, and a cute hand stamped card. Thanks SP! You're really spoiling me :D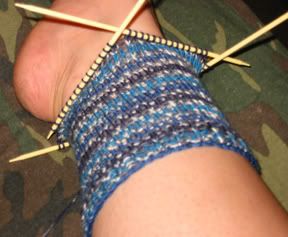 And here is my first sock! I'm using the pattern off of the magic stripe yarn my mom got for me. It's about 1/3 done, and I haven't touched it in about a week. I've been too busy making the afghan...scroll down to see that!
And the first boob for the black cleo is complete! I finished this last saturday at a barbeque. I've decided to follow the basic pattern and just change the stitch patterns. I'm really happy with the way it's turning out so far.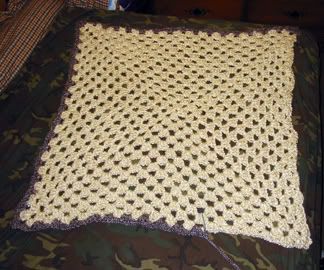 This is the afghan I'm making for a wedding we are going to next weekend in Cincinatti. It's for my BF's cousin. I'm using homespun and a pattern from lionbrand. It's coming along nicely, and I plan on being finished by the end of the weekend.
STITCH MARKERS!!!
This is my first set of stitch markers I received from Jen at piddleloop. We weren't "official" partners, but she's just so awesome, she decided to send me a set too! I love the attention to detail in the packaging and postcard. Each set she made has one unique marker, and I love them all :D Thanks Jen!
And this is the first official set of markers I recieved Thursday. They're from Erin of Nebraska. I love frosted glass, the centerpiece of this set. She packaged them with a card in this nifty little velcro closure pouch. I would love to know where she got these, 'cause I could think of millions of uses! Thanks Erin!
So...that's all for now. I'm off to crochet my heart out to finish that afghan. Have a great weekend!
>^.^<