marker mania!
So yesterday I stopped by my house to check my mail, and what did I see? Two marker maina packages waiting for me! Since I don't have a digicam this week, and the one @ work has a dead battery, I scanned in these images. They actually turnd out better than I expected!

I got this cute little set from
Leah.
Aren't they adorable? I <3 them :)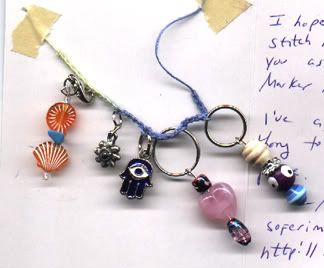 My 2nd package came all the way from Isreal!
Moze
sent me a really cool vareity of stitch markers! I love all the differnt beads she used :) I know i'm obsessed with matching my markers so much that i never thought to mix it up a bit. I <3 these too!
Moze also made me a book thong (hee hee hee) that already has a home in my pattern book :) Thanks Moze!
so last night, I enslaved the BF to burn and label CDs for me while I assebmled my packages for the CD Swap. I'll have pics once I get access to a digicam again. These packages will go out tomorrow! Wahoo! I also sent out my marker mania packages this morning. I'm working on another SP package too! Man, the postoffice must love me :)
So our new roof is complete and I'll be @ home again tonight. I really liked house sitting with my BF. It'll be hard to sleep without him to cuddle with! Ah well...we'll have a place of our own soon. hopefully.
>^.^<