I <3 gifties!
Last night I received my frist b-day gift!
My boyfriend's parents are going on a road trip, and they weren't too sure if they would be home in time for my birthday (August 1st) so I got an early surprise last night! The blue tote is from Barnes and Noble. It's a flexible rubber with large handle, perfect for my pattern binders! The book with pretty flowers is a journal. The inside has lined pages with perforations, perfect for keeping notes on my knitting patterns :D And I got the most recent issues of Interweave Knits and Knitter's Magazine. All this plus some cold, hard cash to spend at the yarn store! I love my BF's parents :D
Another Crafty Thing...
This past weekend, I attended a class at
Archivers.
They are the photo memory store that carries everything you need to stamp, scrapbook, and create crafty things. They offer classes all month long, many of which are free!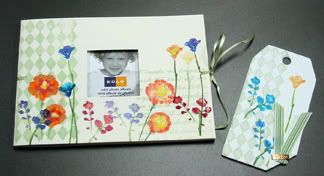 These are the projects I made at the
Water Misting class.
A cute photo album and a gift tag were stamped during the two hour class. This was my first stamping class, and since they're free, i'm sure I'll be attending many more! The technique we learned, water misting, invloves applying color to stamps (i prefer using the water based markers over painting water colors), applying a fine mist (or two) to the stamp, and then stamping on watercolor paper. The results were pretty cool! This is a technique I could find many uses for and was fairly easy to master. Plus, if you don't like the way your stamping turned out, just wet a small paintbrush, and soften it up. I would definitely recommend taking classes at Archivers, if you have one near by.
Still plugging away at the afghan. I could have finished it over the weekend, but it was soooo HOT, that I just relaxed instead. Only 4 more days left before the wedding! EEEK! I had better get cracking tonight :D
>^.^<