for the boy...
ok...so I've convinced my boyfriend to join the
CD Swap!
whoo hoo! I'll post his progerss here until he gets his own blog :)
A photo of us this past december. Chris is clutching the scarf I made for him for christmas. I do believe he is currently laying in bed, playing grand theft auto:san andreas, nursing the worst sunburn he's ever had. I guess that's what rafting with no sunblock will do to you! Maybe next time he'll lister to me...yeah right! LOL
an on the lighter side of crazy blogthings...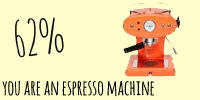 The Completely Pointless Personality Quiz
hmmm...an expresso machine, eh? at least I'm not a foreman grill!
>^.^<