WHOO HOO!
Yesterday when I got home, it was hot and muggy. I hate not having air conditioning! I asked my dad if I had any mail and he produced a package! I got a cute gift from my Secret Pal! YAY!
A beautiful, brightly colored little hand bag :) It was hand-made just for my by my SP5. What a treat!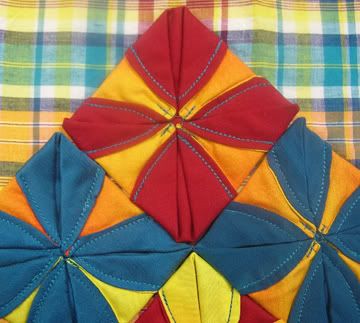 Here is a close up of the front in detail. I love the folded fabric with bright colors.
Here is a close up of the creamy, satiny lining. I love handmade things! If my SP would like to post a little info on this bag, techniques, of other fun info in the comments section, I would love to learn more about it! Thanks again SP5!
Last night I grabbed my craft bag and headed to a friend's house. While we did nothing but sweat and watch the boob tube, I decided to try my hand at freeform crochet.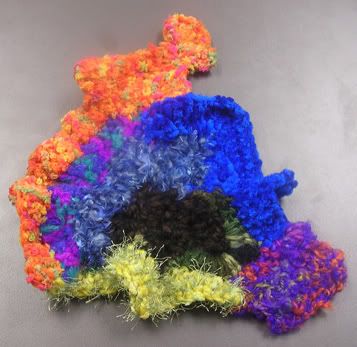 I have been interested in this since I first saw a project on someone's blog. I had tons of different random bits of yarn left over so I just went to town. I think the neon color bit looks kinds like a ram on top of a hill! I don't know what it is going to be yet...maybe a funky bowl or stash bag (how appropiate!) or something else!
After I got home and couldn't sleep (again!) I decided to go ahead and cast on for cleo.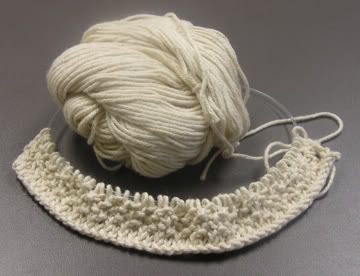 I didn't get too far, mostly because I started over 3 different times and it got to be 12:30am, but it's definitely a start! I'll be heading off to the LYS to so some stitchin' and bitchin' tonight, so hopefully I'll get more done.
So other than this being one of the worst days...in a while, that's about it. I'll get over it, but I think I need less friends, or better ones, or something...until later...
>^.^<