Weekend Projects
Over the past weekend, I was very productive. I just finished photographing my projects last night in that I'm sleepy, I'm awake period just before bed.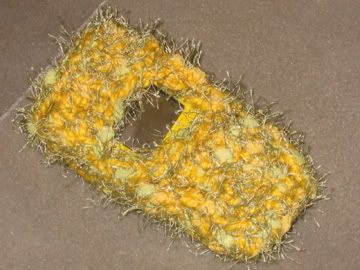 My boyfriend's mom was telling me how she kept losing her black phone in her black purse, so I decided to knit a cute cell phone holder that she's sure not to miss! I used Lion Brand Chunky USA in yellow and Bernat Samba in the lime green. I didn't have a pattern, I just knit it on the fly. I ended up using DPNs to work around the screen, and I think it turned out pretty cute!
Next up, another super cute business card holder from the free patterns section on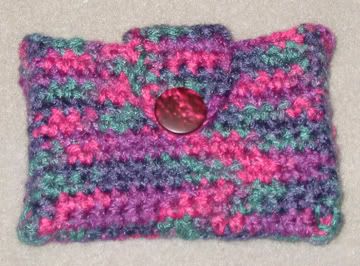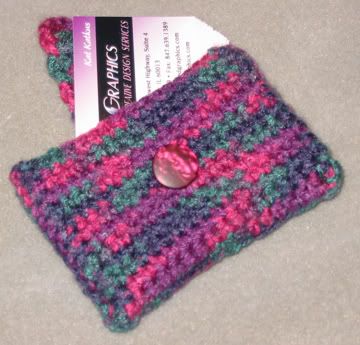 I used a verigated acrylic that matches the color of my business cards a bit more. I also pulled out a pretty purple satin-like finish button from by button tube that matches perfectly. I love it :)
This one is a chemo cap knitted from the pattern on Lion Brand's website. You can find it
here.
Again, I used Bernat Samba in the lime green. I love this yarn with the little fleece flecks in green and yellow. A little early for my charity knitting, but I had it with me, so I figured why not? This is sure to brighten someone's day :)
That's all for now. I think I'm actually going to get around to picking out yarn for
cleo
from
knitty.
How long have I been talking about it anyways? :) I've really been wanting a cool halter top to wear since the weather has been unruly lately. The temps in the 80's and very humid with random storms popping up all over the place. I never know what to wear when I go out in the morning! Oi! But that's the midwest for ya. Until we meet again...
>^.^<