projects, projects, projects!
So I have finally photographed my most recent projects that I have been working on and completed. I do plan on switching back to knitting in a bit once I conquer the crocheting bug!
The first project on display was created by

and can be found
here
.
I used a rainbow verigated yarn and altered the pattern a bit to make my bobbles stand out a bit more.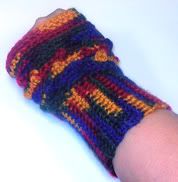 A lovely hand model (me!) with the rainbow wrist warmer. What a cute accessory for my Rainbow Brite hoodie on those cold days!
Next up, a super cute business card holder from the free patterns section on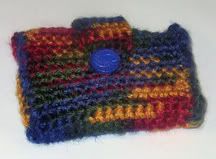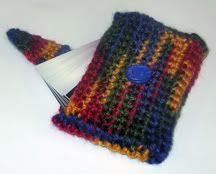 I used the same verigated rainbow yarn for this as a test for the pattern. I'm going to crochet myself another one (or two) to match the colors on my business cards. I bought one of those huge tubes of buttons at the lobby of hobbies and found a cute nautilus design button for this project.
This next project I made at 11:30pm last night when I couldn't get to sleep. It was a fast and easy crochet and only took me 40 minutes to complete. I used a red heart chunky verigated camoflage yarn left over from a baby bib I knitted. You can find the pattern for this one
here
.
I think if I make this one again, I'll add one more row to the pattern cause my hair can get a bit unruly at times, and I just prefer a wider band. My mom said I should make some out of hemp with beads for belts...maybe someday :)
And last, but not least, a pile of granny squares for my granny square skirt from
Hip to Crochet
.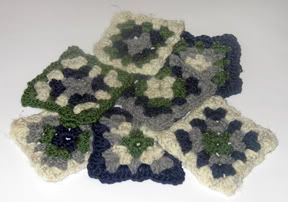 I chose some cute fall colors for this skirt, 'cause I probably won't be done with it until then! But this is sure to be a favorite when I finally get it done. Seven squares down...a little over 100 more to go! yikes! but this will be a great take-a-long project for those summer road trips.
And that's it for now! More crafting this weekend :) I can hardly wait! I am going to brave making my own point protectors and maybe knitting needles, but we'll just see how goes. until then...
>^.^<