project: completed!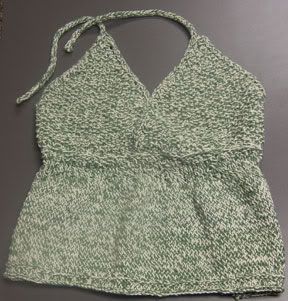 There she is :) B-E-A-utiful! I finished
Cleo
last night after only about 2½ weeks of knitting. I am so proud of this project! I finally have something to wear that is actual clothing :) The only thing I have left to do is sew in the elastic. I am planning on wearing it later this week, so I'll post pics of myself in Cleo and the backing. I decided to go with the original open back for my first try so I can get a sense of how I need to adjust for next time. I think I'm going to knit up at least 2 more versions this summer. I really love this top! Thanks to
indigirl
for designing such a comfy and sexy pattern!
>^.^<