A no $$ weekend...
So we had a weekend of doing anything that involves no $$...at least as little as possible. We're saving up for our trip up north for 4th of July weekend. We are going rafting on the Wolf River with a bunch of frineds. I am really excited and I hope I like rafting! We had much fun frolfing (frisbee golfing) and hanging with friends while trying to save the $$.
My friend saw the BC holder I made, and wanted her own. I just taught her to knit and she dosen't know how to crochet yet, so I made one for her. She picked out this pretty verigated yarn by Cotton Tots. I really like the button. I think it looks almost hand covered in yarn :)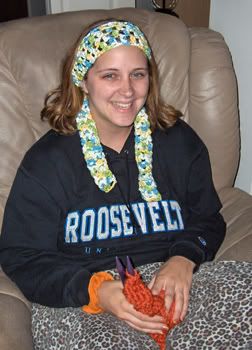 Here is my friend Krista in the
Headscarf
I made from the pattern on
Crochet me.
I used the left-over yarn from her BC holder to whip this up!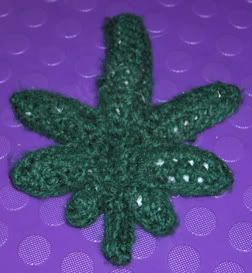 Another creation from Crochet me was this
Kitty Weed Cat Toy!
I almost fell over when I saw the pattern for this one! I knew I had to make this for my favorite kitty, Winston.
As you can see, Winston loves his new toy :)
Gift time!! Remember that cute cell phone cozy I made for my boyfriend's momma? Well, she bought me these great gifts!
A cool green clear tote with snapping lid and sturdy handles for my crafting goodies and a great book! I can't wait to learn some of the funky stitch patterns in here. I love learning new techniques :)
Cleo took a back seat, and I re-started...again! I decided to go with Sugar and Cream in natural and sage. Hopefully I'll have at done before the summer is gone!
That's it for now...until we meet again...
>^.^<